The new rating for German wines are released.
We're happy and proud that reviewers awarded our wines. This is prais and respect for our work.
Here you can read the latest press reviews.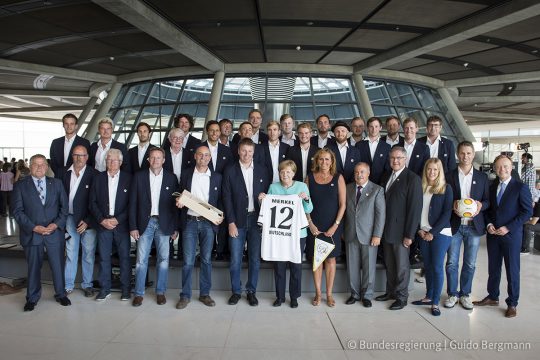 Our managing director Dr. Rowald Hepp visited together with the winemakers soccer team "Weinelf" chancellor Angela Merkel in Berlin.Ms. Merkel got a Magnum bottle of wine and a personalized tricot from the soccer team.
We welcome Claudia Kox as the new head of events in our team. Claudia worked in the same department before and takes over the responsibilty for our event team from Ms. Ulla Ernst now.
About 27 years Ulla was in charge for events and administration in Schloss Vollrads and built up the event organisation in our estate.
She will now enjoy her retirement. We thank Ulla very much for all her passion and engagement and wish her all the best for the future.
Our event team with Claudia Kox, Carina Arbeit and Christian Cavallo is accessible under +49/6723/660 or via email info@schlossvollrads.com.